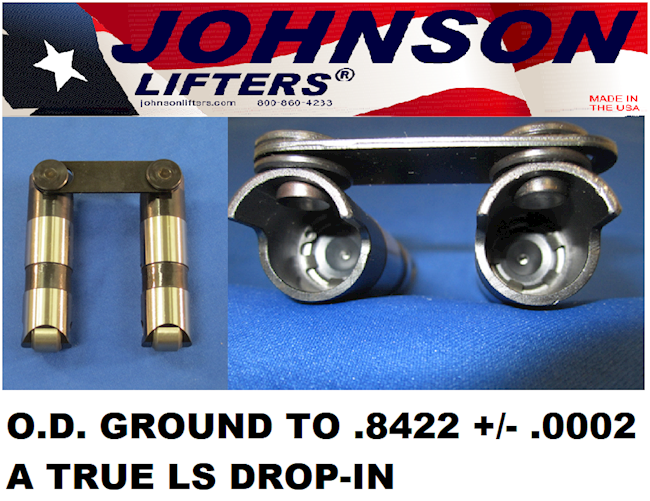 Johnson Lifter Set 2116 LSR Slow Leak Down Race-Style Lifters for All LS Engines
Regular price $848.68 Sale
Katech specified Johnson 2116 LSR Reduced travel lifters, ground to our specification of .8422 /- .0002. This custom specified grinding on the outside diameter allows for proper oiling clearance in an OEM block to properly control oil flow and oil pressure. Johnson Lifters power COPO Camaros to victory lane. These are Johnson's slow leak down race-style lifters for all LS engines not running DOD/AFM.  They do use a link bar, so you not use the plastic lifter trays.
Technical Information:
-Total Plunger Travel: .093"
-Manufacturer Suggested Preload: .025" to .045"
-Katech recommended preload range: .035" to .045"
Johnson Lifters® products are the best in the world because we hold our tolerances to .00005 and hold a precision leak down specification which enables our hydraulics to withstand pressures normally seen in solid applications. At Johnson Lifters® we continuously use research and development with tooling and techniques for innovative solutions to the High Performance Automotive Industry; Axle Oiling to accommodate High Spring Pressures, Variable duration to assist with Torque and Vacuum, High Flow push rod seats to keep rocker arms well lubed and Unmatched Metallurgy to assure a long Lifter Life. These are just a few of the innovations we currently offer. What you will find when you get your Johnson Lifters® is not only a sleek, lightweight, valve train component, but a component of the highest American quality you can buy. Throughout our 21 primary processes and 15 secondary processes the lifters are carefully inspected and tested for functionality and cosmetic defects. Take the headache out of searching for high quality lifters, you have found them!
-Cold forged steel body heat treated for exceptional wear resistance.
-Precision ground needle roller bearing with high chromium steel axle for long life and minimal friction.
-Cold forged extra long piston, precision ground and fitted for controlled leak down and pump up.
-High flow, quick reacting, disc style check valve for better reaction at higher RPM.
-Precision oil metering assuring proper oiling to the rocker arms without sacrificing oil pressure.
-Proprietary tie-bar system
Note: measuring of all clearances is still highly recommended if not required.