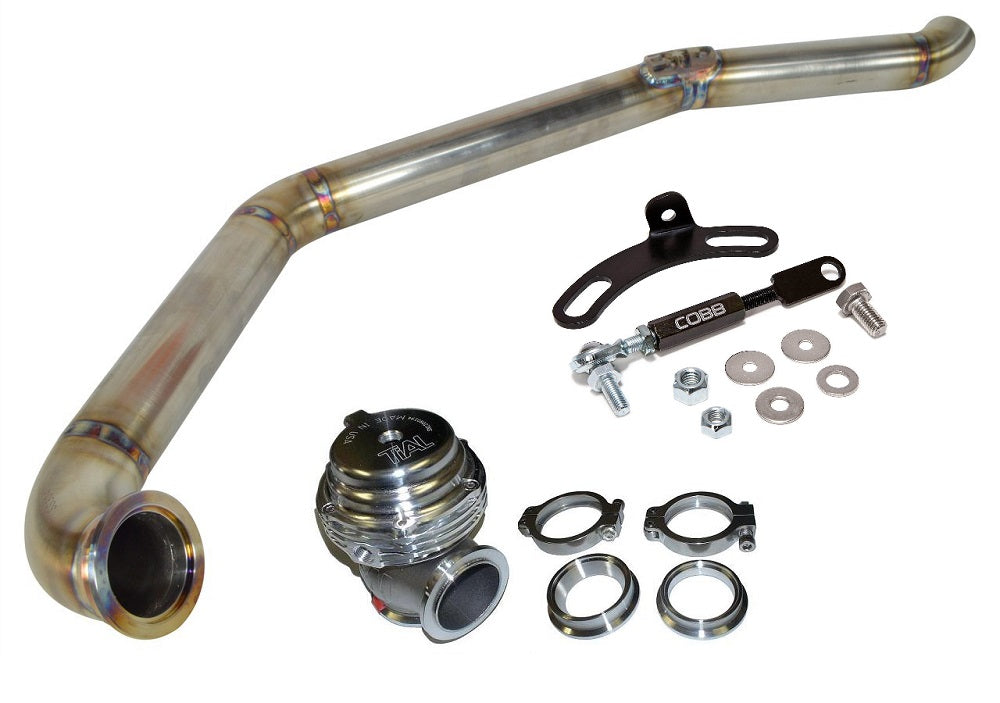 3P Performance EWG Kit for ATP Turbo Kits Ford Focus ST 2013-2017
Regular price $539.00 Sale
When ATP Turbo made the Focus ST bolt-on turbo turbo kits using an all Garrett Turbo lineup, the Focus ST community could then rely on making awesome power in a simple, bolt-on package. The bolt-on kit is awesome in every way including the ability to incorporate an external wastegate coming off the top of the cast exhaust housing. However, there wasn't a bolt on solution to run an external wastegate setup until now. 3P Performance has made the already awesome ATP Turbo kit even better by creating a bolt-on EWG setup for those that want the ultimate in performance. Utilizing a Tial MV-S 38mm wastegate and a Cobb Tuning wastegate actuator bracket as part of the kit, the dump tube completes the entire setup.
The dump tube features 1.5" 304 stainless steel for strength and durability with high quality, beautful TIG welds all around. To ensure the finish of the product's appearance and functionality, the entire tube is back purged to ensure a clean weld and ultimate strength.
The Tial MV-S will allow boost to be reached quickly without any leaking or poor boosting characteristics as well as allow all the flow you need no matter what boost level you choose to run. The Tial will also be superior at holding boost pressure in the higer rpm range where internal wastegates tend to be weaker than an EWG. With the multiple springs included with the MV-S, you can customize the base boost pressure you desire and adjust boost up from there.  With the Cobb Tuning Wastegate Actuator Bracket as part of the kit, you aren't forced to weld your wastegate arm shut or change the original functionality of the turbo in anyway.  You will be able to go back to an internal wastegate at any time if necessary.
To top it off, the dump tube was designed FOR USE WITH THE FACTORY OEM UNDERTRAY. The dump tube exits perfectly right next to the rear motor mount bracket and out of the largest hole in the factory undertray. There were no compromises in fit and functionality with this kit. It's as clean of a dump tube setup as anyone can ask for.
Features:
*304 Stainless Steel Construction including a Stainless Steel V-Band Flange
*TIG Welded and Back Purged
*Custom Fit For Use With OEM Undertray
*Tial MV-S Wastgate with all springs for flexibility with base boost pressure
*Fits ALL ATP Bolt-On Turbo Kits for Focus ST
*Cobb Tuning Wastegate Bracket included
*Made in the USA in Denver, Colorado
**THIS KIT IS FOR USE WITH A FACTORY OR FACTORY ROUTED HOT INTERCOOLER PIPE. THERE ARE SEVERAL HOT INTERCOOLER PIPES ON THE MARKET THAT FEATURE A 90 DEGREE BEND BETWEEN THE OIL PAN AND THE TURBO. THESE WILL NOT WORK WITH THIS DUMP TUBE. THE FACTORY PIPE IS CLOSER TO A 45 DEGREE BEND AND STARTS CLOSER TO THE OIL PAN. THIS ALLOWS MORE SPACE FOR THE DUMP TUBE TO EXTEND TO THE BOTTOM OF THE CAR. TO FIND OUT IF THIS WILL FIT WITH YOUR CURRENT INTERCOOLER PIPING, PLEASE CONTACT US. WE'LL BE GLAD TO HELP YOU FIGURE OUT A FITMENT