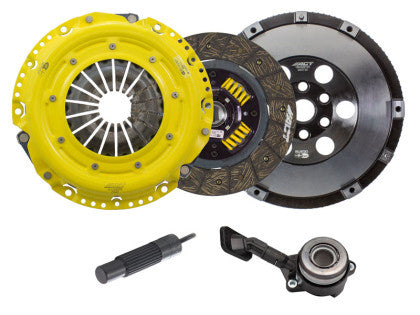 ACT HD Clutch Kit Street Performance with Flywheel Ford Focus ST 2013+
Regular price $1,580.00 $1,232.00 Sale
ACT's FF3-HDSS clutch kit for the Focus ST is a full replacement of your entire clutch system from throwout/release bearing to the flywheel.  It includes the heavy duty pressure plate which increases the clamping load on the clutch disc and will hold higher levels of torque than the factory pressure plate.  The disc is a sprung style to help reduce NVH (noise, vibration, harshness) since it is a using a new single mass flyhweel, instead of the original dual mass flyhweel.  It still retains a full face of clutch friction material for more consistent feel and engagement.  You will experience a little more noise and vibration with this kit over the their more basic kit that uses the factory flywheel.  However, the engine will be quicker to spin up and react to clutch inputs due to the lighter nature of the entire setup.

This clutch is rated to 445 ft. lbs. or torque at the flywheel.  This would be a great clutch for any stock turbo Focus ST with or without supporting power modifications.

All individual components are available separately for any future replacement needs.