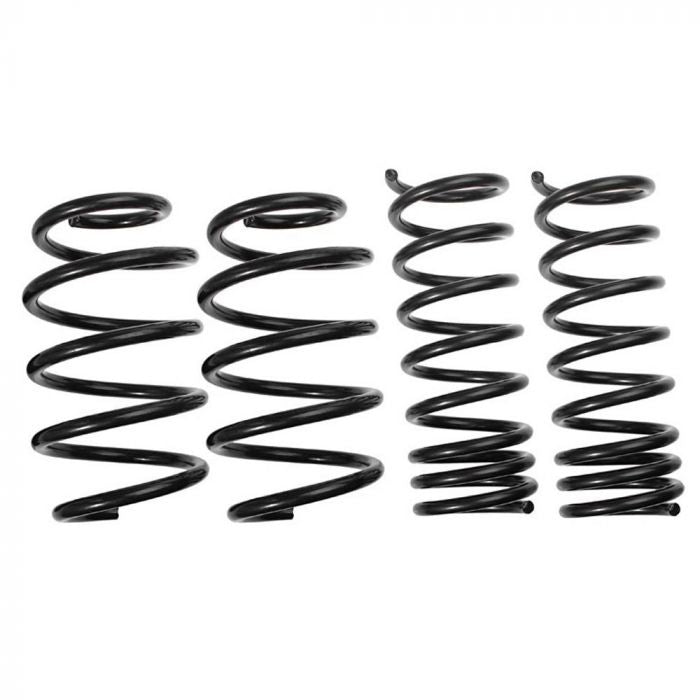 Eibach Spring Pro-Kit Set Focus RS 2016+
Regular price $350.00 Sale
Features and Benefits:
- Increase in Performance Handling
- Lower Center of Gravity and Aggressive Looks
- Faster Cornering and Quicker Stops
- Helps to Eliminate Body Roll and Nose Diving Under Heavy Braking 
- Progressive Spring Rate for Great Ride Quality
- Compatible with OE Electronically Controlled Dampers
- 0.7" Drop in the Front
- 1.1" Drop in the Rear
*New bump stops are NOT included, you will be required to reuse your original bump stops to properly complete installation.
Technical Information:
- Front OE rate: 43 N/mm (246 lbs/in)
- Front PRO-KIT rate: 32 N/mm (183 lbs/in)
- Front PRO-KIT rate 2: 40 N/mm (228 lbs/in)
- Rear OE rate: 43 N/mm (246 lbs/in)
- Rear PRO-KIT rate: 41 N/mm (234 lbs/in)
Eibach has designed the Pro-Kit to effectively lower the center of gravity for the Focus RS. Lowering the center of gravity reduces squat during acceleration as well as body roll in corners and nose-dive under hard braking. The drop rate for the front is 0.7" while the rear will drop 1.1". With all this performance handling and lower ride height, there is no need to worry about the ride quality of your Focus RS being sacrificed. The progressive spring rate design provides a smooth ride when cruising, and stiff handling when throwing it into a turn. Lowering your RS will also reduce the gap between your tire and fender, giving the RS a more aggressive and poised appearance all while allowing you to still be aligned to factory specifications.