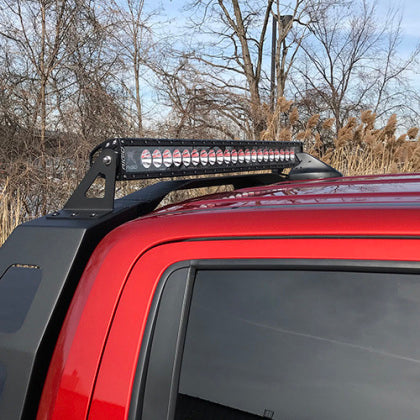 Ford Performance 40" Off-Road Light Bar Ford Ranger 2019 +
Regular price $742.89 Sale
Highlights:
Adds 40" Rigid Industries Light Bar
Uses 16632 raw lumens
Huge boost in output with an awesome, off-road look
Comes with all necessary components for installation
Fits onto Ford Performance Chase Rack
The 2019 + Ford Ranger produces decent light, but when you're out in the vast darkness of the wilderness, factory lighting won't be effective. For more output and a new beam type, Ford Performance offers an off-road LED Light Bar package from Rigid Industries. This single row off-road LED light bar adds intense lighting and an aggressive back-lighting. The kit's Radiance light bar allows you to extend your off-road adventures long into the night by mounted on top of Ford Performance's Chase Rack. This 40" lighting system instantly gives your truck an aggressive custom appearance while providing safety and security in the darkest of nights. Loaded with a row of 21 high-powered LEDs, you'll be able to maintain high speeds and avoid any fast approaching hazards in the road ahead of you. Even though the LEDs put out a huge amount of light, they have a very low amp draw on your battery. The lights come with a nearly indestructible housing and lens that gives the entire light bar huge amounts of strength and the ability to absorb massive amounts of punishment off-road. These lights are intended for off-road use and are not street legal.


The Radiance Series 40" light bar features 21 LEDs arranged in a pattern that projects a beam of light out to an impressive distance. The beam gives you an exceptional field of vision to ensure you "Spot" out problems on the trail before they become outright disasters. The bar was created with a black exposed printed circuit board that is optimized to create a unique
white back-lighting
effect with their Broad Spot technology which gives off a spot/flood beam pattern for a wide range of coverage. The kit also includes a wiring harness so you can run the back-lighting without turning on the primary LEDs. A switch lets you operate the lighting system.


The Radiance Light Bar can handle the toughest off-road hazards without letting you down. The bars feature a black powder-coated, cast-aluminum housing and a thick polycarbonate lens that can endure extreme punishment. A black lens cover also helps protect your lens and adds an alternate look. The LEDs themselves have extremely durable circuitry that is resistant to impacts and vibrations. The light bar's LEDs can continue to function even if the case or polycarbonate gets damaged and are much tougher than halogen or HID off-road lights.
Specifications:
Watts: 204
Amp Draw: 14.57
LEDs: 21
Raw Lumens: 16632
Lux @ 10m: 2595.99
Beam Distance: 509.5 m
Peak Beam Intensity: 259599 cd
Compatibility:
This kit is only compatible if your Ranger has the Ford Performance Chase Rack Equipped.