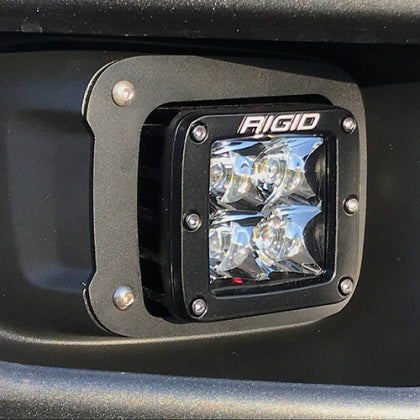 Ford Performance Off-Road Fog Light Kit Ford Ranger 2019 +
Regular price $436.49 Sale
Highlights:
Adds two Rigid D-Series Pro lights in place of the stock fog lights
Uses 10-degree spot beam to illuminate deep into the night
Huge boost in output with an awesome, off-road look
Comes with all necessary components for installation
Drop-in replacement for the stock fog lights and buckets
The 2019 + Ford Ranger factory fog lights produce decent light, but when you're out in the vast darkness of the wilderness, factory lighting won't be effective. For more output and a new beam type, Ford Performance offers an off-road LED lighting package. These two lights drop into your factory fog light locations so it looks like the kit was just as Ford intended it. The fog light overhaul comes with two Rigid Industries D-Series Pro LED Fog Lights. These new lights add a spot beam that function so much better when you're in the dead of night. The 10 degree spot beam illuminates the path ahead of you to ensure that you are safe and ready for any obstacle that may be in your way. The LED light uses 30 watts and draws 2.14 amps. With its 3,168 raw lumens and 721.97 lux at ten meters, you'll be all set for 50,000+ hours of operation! The light is also IP68 compliant for water and dust. These lights are intended for off-road use and are not street legal.
Includes All Necessary Accessories for Use
The Ford Performance Off-Road Fog Light Kit includes the full assembly for an easy installation. The kit drop into place of your Ranger's factory fog light buckets for an almost-OEM look. Made from quality components, Ford Performance designed this kit to be plug-and-play without any cutting or splicing. With a pre-assembled build, you'll be all ready to go! It utilizes modified factory bezels, stainless steel black powdercoat trim plates and a wiring harness to pair with your lights. The harness allows your lights to plug right in so your factory fog light switch can control the new lights. Ford Performance lens covers add protection to the lights and show great Ford pride!