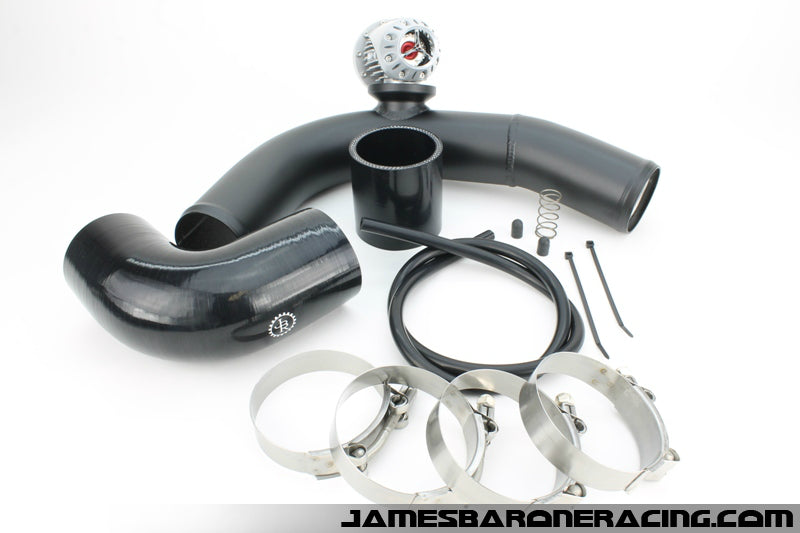 JBR HKS BOV Cold Side Charge Pipe Kit Ford Focus ST 2013 +
Regular price $229.99 Sale
The JBR HKS BOV Cold Side Charge Pipe Kit for the Ford focus ST is constructed out of 2.5" mandrel bent aluminum. It incorporates a CNC machined flange for a HKS blow off valve and a 1/8" NPT bung for methanol injection. Whether you're upgrading your turbo or just want that distinctive sound of a external blow off valve, we've designed a kit that includes everything to simply and easily defeat the OEM bypass valve and add a HKS external BOV.
The increased diameter and smoother radius tubing of the JBR kit allows for the cold air exiting the intercooler to make its way to the engine faster and more efficiently than the OEM piping.
Making the connections are our custom, 5-ply reinforced silicone couplers. These couplers will not expand under boost and are fuel and oil resistant. Keeping the couplers and piping firmly in place, we've included 19mm wide stainless T-bolt clamps.
In 1994, HKS introduced the first Sequential Blow-Off Valve featuring a unique, pull-type, sequential valve structure and a differential pressure control system. This advanced pull-type relief system allowed for stable operating ranges from low to high boost pressures. Reliable functionality of the Super SQV 4 is unchanged and utilizes the same mounting flanges as all previous generation SSQVs. Super SQV 4 features include a nickel-plated, die-cast metal secondary valve, which is swaged to the primary valve, a stainless steel C-Clip and spring to increase sealing and durability.
The end result is a kit that looks, fits and most importantly...Performs!!
Fitment:
- Direct OEM replacement
- Fits all aftermarket turbos and intercoolers that are direct OEM emplacements
- Requires sound symposer delete for vacuum source
Features:
- Designed and Manufactured in the USA
- Increased air flow
- Meth injection ready
- Lower charge temps
Includes:
- 1 Cold side charge pipe with a HKS flange & meth injector bung
- All necessary components to block and eliminate the OEM bypass valve
- 2 silicone couplers
- 3' of silicone vacuum tubing
- 4 stainless T-bolt clamps
- 1 HKS BOV (optional)
- Installation instructions are available in our support section
- Shipping is free in the US & our Hassle Free Lifetime Warranty is included