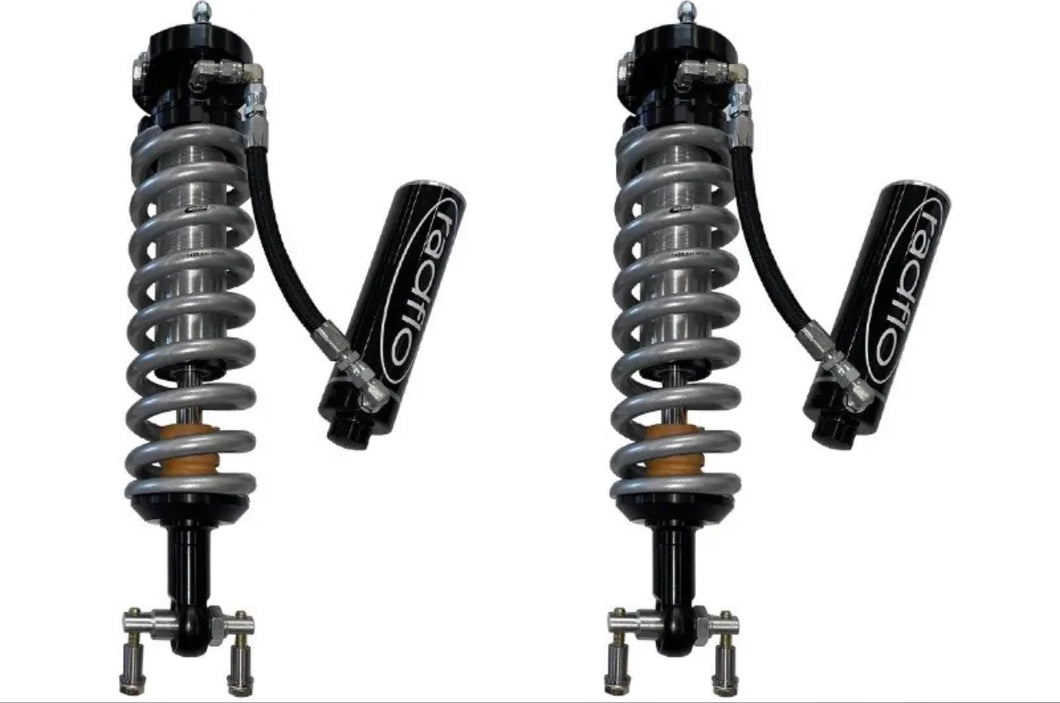 Radflo 2.5 Adjustable Remote Reservoirs Front Coilovers (2" Lift) Ford Ranger 2019 +
Regular price $1,850.00 Sale
The coilovers feature excellent components. It is built around an SSID alloy steel tube body with a high-performing Eibach spring. A Nitro Steel, mirror polished chromed rod uses a CNC machined bronze rod guide with a PTFE coating for excellent corrosion resistance. Body Caps Eyelets' CNC machined 6061 aluminum construction match the rest of the tough design.The pressure of the nitrogen gas is an impressive 250 psi. An external remote reservoir design on both also manages the oil and dissipates heat faster than an internal one. A built-in compression adjuster also works by allowing you to change oil flow from the reservoir to the main shock body to fine tune your truck. The oil used is Radflo's own high-temp, foam resistant suspension fluid. Self-adjusting valving uses a velocity-sensitive deflective disc. The combination Quad-Ring seal is completely rebuildable for convenience. Coilover spring rate can also be selected from the drop-down menu above, with a range of 550lb/in to 750lb/in for a more personalized, dialed in ride height for the precise load on your Ranger's front. A clear Cadmium plating and mirrot polished finish contributes an gorgeous look to the bottom of your Ranger. Additional hardware uses CNC machined aluminum to withstand whatever tough trails throw at it. The coilovers are drop-in replacements into your OE location and can get you rolling on rocky trails in no time!
Spring Rate Options:
these coilovers come with a choice of spring rate. Please select your spring rate from the drop-down options above.
550lb/in springs: suitable for bone-stock trucks that want the softest possible ride.
600lb/in-650lb/in: suitable for Rangers with lighter aftermarket front bumpers or dual battery systems, or for owners who want a tighter on-road ride.
700lb/in-750lb/in: suitable for Rangers with large, boxed steel bumpers and/or winches.
Huge improvement in both on and off-road handling
Front suspension upgrade
2.5" diameter coilover w/ adjustable remote reservoirs
Adds up to 2.5" of front leveling
Drop-in replacements for stock