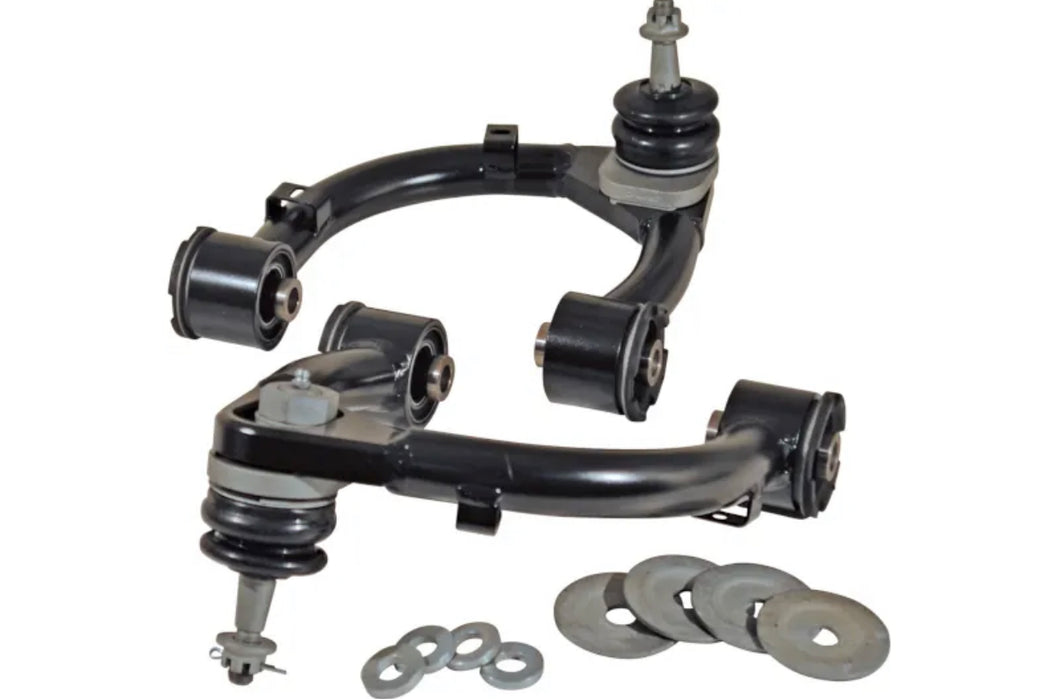 SPC Adjustable Forged Upper Control Arms Ford Ranger 2019 +
Regular price $749.95 Sale
Uniball upper control arms are undeniably a great suspension piece, but standard ball joints offer improved reliability. Better reliability and alignment specs can be enticing over having better deflection angles, so SPC's Forged Upper Control Arms are a perfect choice. SPC's control arms fit the Ford Ranger and feature a high-angle ball joint design. Some trucks wander after being lifted because of lost caster, but SPC's UCAs provide a quick fix for this. The UCA features an adjustable design that allows for a range of -1 to 3 degrees of caster adjustment; this 2 degree adjustment range makes it much easier to dial in your Ranger's alignment, especially after adding a lif or leveling kit. Besides the ball joint being more articulate and adjustable, the SPC upper control arms are also stronger than your OEM application, which makes them better to tackle tough off-road paths. The new UCAs also allow you to fit bigger tires onto your truck without any rubbing against your fenders or frame rails.

SPC's Upper Control Arms are built extremely tough and are an excellent improvement in both strength and function over the stock Upper Control Arms. The control arms are manufactured out of forged steel, which gives them much greater structural strength than the factory stamped steel upper control arms. The ball joint included with these arms features a high-angle design with 80° of articulation that provides your Ranger with more droop travel over stock and helps prevent UCA contact with the coilover spring on leveled vehicles. The control arms come standard with SPC's xAxis™ rubber isolated bushings which provide a quiet operation for your Ranger. The tube and plate of the UCAs are made in SPC's American-made Colorado facility!
Fitment:
These UCAs will only fit Rangers with cast aluminum spindles, and will not fit Rangers with cast iron spindles. Please verify your truck's spindle/knuckle type before ordering.