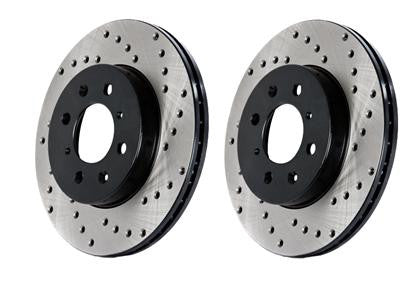 StopTech Drilled Sport Front Right Brake Rotor Focus ST 2013+
Regular price $185.64 $142.95 Sale
Product Description
StopTech has choices when it comes to selecting the right brake rotor for your high performance car. Different setups call for different requirements and StopTech has you covered. All StopTech rotors will provide OE equivalent or better stopping power, better cooling, and perfect fitment.
A brake rotor's main job is the remove thermal energy from the braking system after it is generated from the friction surfaces meeting each other. There are many critical design components of any given rotor but all rotors are certainly not equal. Vane design, metallurgy, production methods, and machining the brake rotors all matter in making the brake system perform at a high level. StopTech makes sure all these points are covered and nothing is left to chance when putting these high quality, high performance brake rotors on your car.
StopTech Sport Slotted and Slotted/Drilled Rotors are a direct replacement to your factory brakes. This means they will fit with any stock caliper, stock or stock replacement brake pad, and stock hub and bolt pattern. They will provide improved cooling ability over stock and will help wipe away debris and gas that is built up after repetitive use of your braking system. More "bite" is also a result due to the efficiency improvement of the pad to rotor contact. Wet and dry braking performance is improved as well as water will now be shed from the braking setup more efficiently.
StopTech Sport Rotors feature a black coating in the center of the disc where there is no brake pad contact to prevent rusting and keep a nice, clean look all the time.