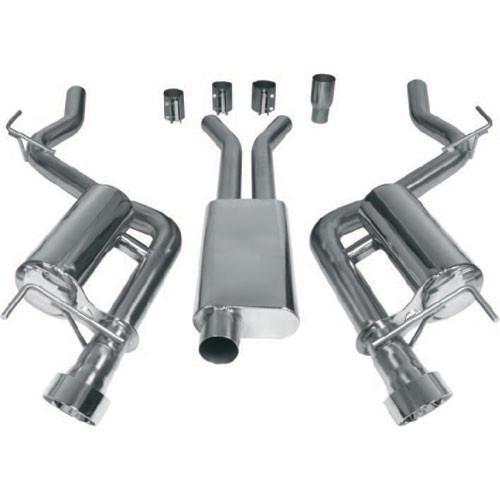 Themal R&D Catback Exhaust System Ecoboost Mustang 2015+
Regular price $1,046.00 Sale
2.5" Diameter Tubing
4" Angle Cut Tips
T304 Grade Stainless Steel
Adapter for 3" Performance Down-pipe
Thermal R&D Exhaust's 'True Helmholtz Technology'
When Ford introduced the 2.3 liter turbocharged EcoBoost, the world knew it was going to be a hit. After testing various approaches we decided to develop an innovative straight-through exhaust system that produces a more aggressive sound. With drone often being a concern,
Thermal R&D it's 'True Helmholtz Technology' to remove the unpleasant sound frequencies while cruising.
The straight-through design is made from the highest grade T304 stainless steel. The look is completed with brush finish tubing, polished mufflers and polished 4" angle cut tips. The kit includes three specialized clamps that allow for easy installation and proper tip alignment. In
addition, an adapter is included for those who are going all-out on their build and plan to include a 3" performance down pipe in the future.